​
Time's Undoing
(Dutton Books)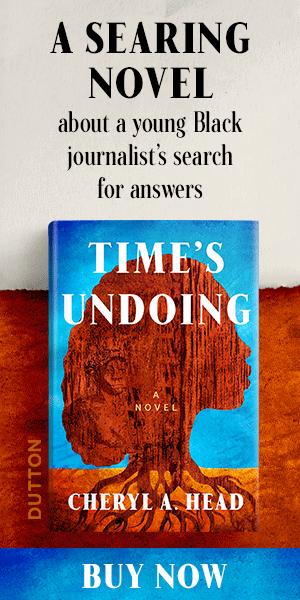 ​
"Based on her family history, exploring the inherited trauma and pain wrought by white supremacy, and the power of a community coming together to fight for change, told in alternating timelines: in 1929 a Black man and his family in Birmingham encounter racially-motivated violence, and in 2019, a young Black reporter investigates the unsolved murder of her great grandfather in Birmingham almost a hundred years ago."
~ Publishers Marketplace
​
Times Undoing has been named a March Indie Next Pick
​
Anthony Award Nominee
​
​
The Anthony Award (named after Crime Fiction reviewer and author, Anthony Boucher whose name is also borrowed for Bouchercon the largest gathering of mystery and crime-fiction authors in the world) finalists were named this week.
​
I'm proud to announce that Warn Me When It's Time is a nominee for Best Paperback/ eBook/Audiobook
5 new mysteries and thrillers to help get you through winter
​
Discussion/Book Signing
​
7pm February 28th, 2023
Tombolo Books, St. Petersburg FL
Interview by Sheree L. Greer
​
7pm March 2nd, 2023
Washington, DC
More details coming soon
​
March 3rd, 2023 @ 7pm
Books Are Magic Montague
Brooklyn Heights, NY
​
​
Kindred Stories Bookstore
​
March 9th, 2023
Kindred Stories Bookstore
Houston, TX
More details coming soon
A Charlie Mack Motown Mystery
A hate group operating in Oakland County, Michigan has claimed responsibility for a six-month-long string of arson fires and robberies at mosques, temples, and black churches around Detroit, eluding police and federal agencies.
The most recent fire, at a mosque in Dearborn, kills a respected imam. His children—suspicious of law enforcement's treatment of Muslims and afraid of reprisal—hire Charlie Mack and her team of investigators to find their father's murderers.
The Mack team begins to hunt down the clues in this local hate crime, but they aren't prepared when they realize that those clues are pointing to a widespread conspiracy that runs through elected state officials and up to the highest levels of national leadership.
FBI agent, James Saleh, returns to help the Mack Agency infiltrate and take down a homegrown militia hell-bent on starting a race war in America.